Hawaiian Silky Herbal Leave In Conditioner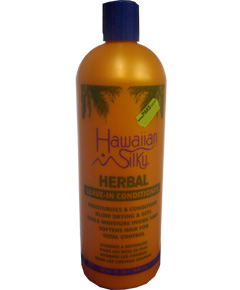 Hawaiian silky herbal leave in conditioner £6.99
(however I bought a smaller bottle 355ml for £299)
At some point I decided I needed a leave in conditioner and found this through browsing on naturally curly
There's plenty of other products and curly advice on there and I pretty much look on there everyday.
But back to this product, I don't rely know what to make of it, I either wasn't applying it properly or the product itself just didn't work for me. I had tried Aussie leave in conditioner before when it was on offer and absolutely loved it but it's normally quite pricey so I started looking for a cheaper alternative. After washing and conditioning I would apply this to my hair whilst it was still wet/damp. I would hang it upside down and lather it on and rake it through my hair just like a normal conditioner. This was probably my mistake as I now know to do my hair in sections, scrunch with a microfibre towel, and diffuse etc. But either way it didn't make my hair feel moisturised at all. I did a household survey (meaning I asked my family) and 50% did not like the smell but 50% did. It was kind of a tropical smell that I didn't mind but I am quite concious of how my hair smells to other people. The product had a creamy consistency but when it was in my hair it felt as useful as water, yet it was still difficult to work with.
Overall I didn't think much of this leave in conditioner, it didn't do much in the way of defining my curls and it felt sticky which also made them crunchy. However, had I applied it properly I probably would have got better results so again I can't give a full verdict.
Still would not recommend this to anyone with my hair texture or anything looser.
But if you haven't already its worth a while checking out naturallycurly.com :) <3