Hollywood beauty: Castor oil and Marula OIl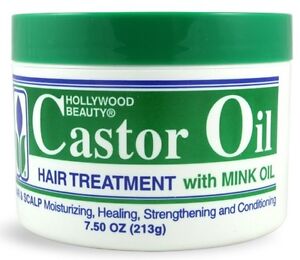 Castor oil: £1.99
I found this through surfing on youtube and watched lots of videos about how this stuff makes your hair grow faster. Now, as instructed buy these youtubers I would rub this stuff into my scalp once a week after washing. But the problem here was that my hair would start to smell a bit funky after a few days due to product build up. I soon gave up on this and let the tub sit on my dresser for a while until I was having a bad day with a few frizzy pieces and had no idea how to hold them down. It's in these emergency hair situations that I start getting experimental and come up with some great ideas. I decided to wet my hair to get it to curl and put some of this oil in to hold the curls in place. Not only did this product hold my curls and reduce frizz but it also helped to define them. I must warn that this product does not have an oily consistency, it's more like a thick waxy paste so it's easy to target small sections of hair. I then began using this on my whole head of hair after washing whilst my hair was still damp to give it some definition, but t
his would be after using some soft 'n' free lotion for moisture first
. Note that for my whole head of hair I would have to rub the product in the palms of my hands first so I can apply it evenly along the length of my hair. This oil can also be applied directly to the ends daily and by doing so I also noticed an improvement in the condition of my ends (which were looking pretty dire before I first tried this). At only £1.99 this tub is a bargain and lasts forever!!!
Marula oil: £1.99 (59.2ml)
After my tragic parting with the Staf-Sof-Fro marula oil collection, mention in an earlier post, I continued to look for alternatives and came across this online. Now it isn't pure marula oil as it is mixed with other oils but it smells gorgeous and absorbs into my hair really well. It gives a lot of shine and tames frizz too. You might thing 59.2ml is small but it lasted me a long time and it's great for travelling which was when I used it for the first time. I tried to co-was my roots with a free sample of dove's nourishing oil conditioner and I decided to use this on my damp/wet hair and got some very shiny frizz-free curls afterwards. I was so surprised that my hair looked and smelled good without the help of a shampoo or shower for that matter. If I ever repurchase this I would like to try it after straightening my hair instead of using a serum, as I find that serums dry out way too quickly.
It's probably worth taking a look at some of the the products by Hollywood Beauty. There's so many different oils that I want to try but my bank balance wouldn't be too happy about it :( I originally thought that Hollywood beauty was one of those typical products lines that sell low quality products that don't really work but as it turns out they're quite the opposite, at least after my experience with these oils.