The Madness: and how it all began
This is another post about my hair and again looking back into the past where I didn't have a clue about what I was doing.
I'd like to talk about the time when I started to straighten my hair.
I like to refer to these days as the dark days as I made some of the worst mistakes possible when applying heat to my hair.
I don't know what led me to straightening my hair for the first time but I remember that during the same period there was a sudden craze with ghd straighteners which were very popular at the time and some my friends happened to be obsessed with them. I guess listening to them obsess didn't really help me in my situation.
The first time I ever flat-ironed my hair I was around fifteen years old, after years and years of keeping my hair in one big protected braid at the back of my head it had grown to a very long length. When wet and stretched out my hair reached my middle/lower back however not all of this hair was healthy. The first time my hair was straightened I'm pretty sure my mom did it for me, there was no way she could trust me with such and appliance that reached dangerous temperatures. My hair had to be shampooed, conditioned, blow-dried as straight as possible and then flat-ironed.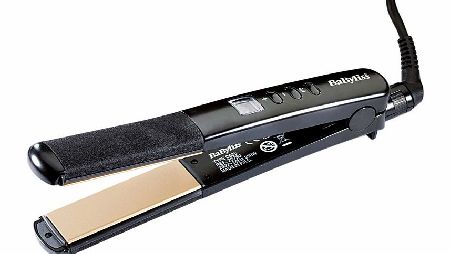 Babyliss hair straighteners
These were the straighteners that my mom used on my hair which reached up to 230 degrees celcius. These were shared between me, my mom and my two sisters until my mom bought a Remington (not so good) pair for one of my sisters. My mom would do a fantastic job on my hair and it looked so smooth and silky, which I have to give thanks to the years of wearing it natural in a protective greasy braid since birth! People would never guess that my hair was curly and I would get plenty of compliments when I went to school. This however is what lead to the problem because as people complemented me for my straight silky hair they were actually killing me with kindness. I noticed that I got more attention with straight hair so due to positive feedback I would carry on straightening it in an attempt to keep up the attention I was receiving. Other people would be so surprised at how long it was because in its curly state my hair is just like a coiled spring/spiral that stretches. So when my hair was straightened it stretched out to my mid/lower back. It would have been longer had my mom not cut 4 inches off. It is almost impossible to detect split/damaged ends on curly hair as the shape of the curls almost disguise them. However when straightened my damaged ends were as obvious as neon traffic lights; my mom only cut my hair every 1-2 years which is what allowed these damaged ends to persist however I didn't suffer much as my hair was still incredibly long even after the 4 inch "trim" my mom gave me.
So back to the problem......I deluded myself into thinking I looked prettier with straight hair so vein temptation led to me trying to flat-iron my hair without my mom's help. I would straighten my hair consecutively after every wash and to touch ups every day. I had discovered that straight hair was easier to manage but a pain to maintain as any amount of wind/moisture/fog would make it frizz up and it would need re-straightening. By then I had discovered that water made my straight hair revert to its curly state.
MY BIGGEST MISTAKE however was the fact that I almost never used heat protection !!!!! :O GASP
I know.........the shame.......how could I ?......Especially when I was cranking up the heat to around 180-210 degrees (this is very high btw)!!!!. Not only did I make this mistake, but my mom and sisters did as well. In fact one of my sisters was silly enough to even attempt to straighten her hair whilst it was still damp !!! This led to a lot of steam. In fact whenever any of us where straightening our hair the amount of steam produced was enough to set the fire alarm off. The reason we didn't use heat protection was mostly because of our lack of knowledge of how important it was and because my mom couldn't really afford to buy it regularly. Unsurprisingly we all learned or lessons soon enough when our hair began to split/break/dry and frizz up due to heat damage. My hair was so damaged that my fringe had white bits at the end of each strand (which is a HUGE sign of burnt hair!!). In the end I realised that I had to cut off the damage and stop using the flat iron as often. Those compliments I used to get soon stopped when my hair lost its length and healthy sheen. I was distraught and so upset I became obsessed with growing my hair longer. I was aiming for hip length hair and had read online and heard from classmates that trimming my hair more often would make it grow faster. However this was another big mistake as whenever I saw a bit of hair that wouldn't straighten properly I would go over it with the straighteners or cut it off assuming it was damaged ends. This worsened the problem and I also tried to cut myself a fringe. Being inexperienced I messed it up and ended up with choppy uneven hair. When my mom found out what I'd done I got the biggest cussin' of my life. My mom then took over with the scissors and tried to rectify my mistake. I now had hair that was just past bra strap length when straight and shoulder length when curly :(. I had never felt more depressed. It was like I had lost a part of my outer beauty and I still haven't grown it back to this day. Sometimes I wonder how long my hair would be now almost 5 years later had I not been so stupid. But we live and we learn and
I can honestly say I learnt my lesson the hard way and have been a lot more cautious about using heat on my hair ever since.
I now always use heat protection but back in those days the only thing I used was the Tresseme heat protection spray and occasionally a serum to give the finishing touch after using the flat-iron. The brand of serum my mom bought once was the Andrew Barton gloss boss serum that came in a round ball like dispenser bottle. However my mom didn't buy serums regularly as they are quite pricey for a single mom on a budget. So when we ran out I came up with a revolutionary idea.
I had straightened my hair for a birthday party and needed to put something in my hair to stop it going out of control:
Sitting on the dresser was a tub of DAX WAX, I contemplated on whether to use it or not but went ahead with it anyway. And boy was it the best decision ever !!! not only did it make my hair a little shiny but kept in in place the ENTIRE NIGHT. I repeatedly checked my hair regularly to see if it was frizzing up but my hair didn't do any such thing. I have to say the wax the reduce that flowy movement and made my hair a teensy bit heavy/stiff. But it did a better job than any serum I have ever come across and it's also a lot cheaper. Used in the right amount it controlled my hair without making it greasy!! I haven't used this wax since but if I ever get my hands on some I will definitely try it again.